E-A-R Classic II, 3M
Review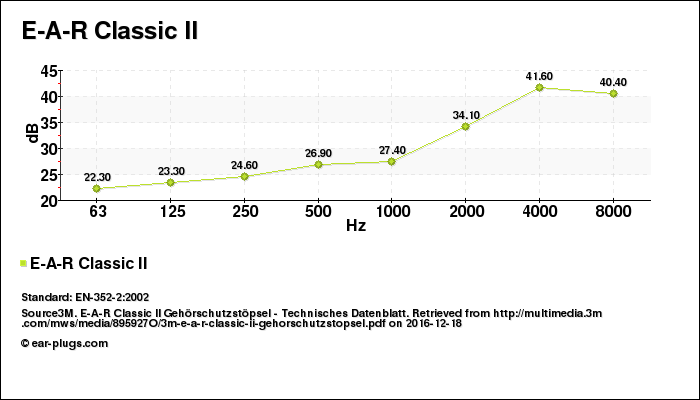 The 3M E-A-R Classic II earplugs are very similar to the Classic earplugs. The Classic II earplugs feel somewhat stiffer than the Classic earplugs when pressed with two fingers.


Material
Polymer foam
Comparisons of this earplug with other earplugs are available here.
Facts
| | |
| --- | --- |
| Name: | E-A-R Classic II |
| Brand: | 3M |
Attenuation (Europen Standard)
Attenuation according to measurement standard EN-352-2:2002
More decibel (dB) means more sound protection. More hertz (Hz) means a higher pitch sound.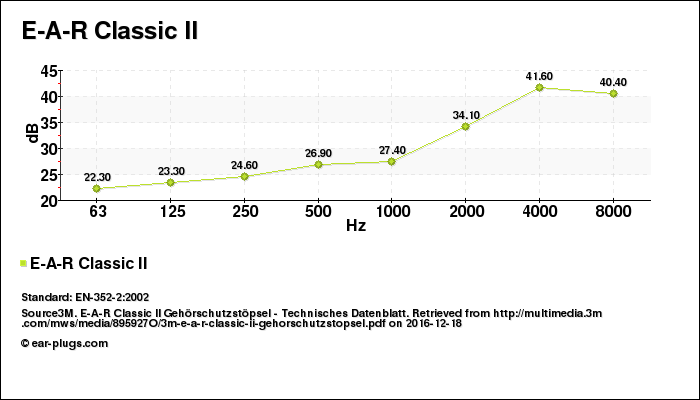 Overall rating
| | |
| --- | --- |
| Standard | EN-352-2:2002 |
| SNR | 28.00 |
| L | 22.00 |
| M | 24.00 |
| H | 30.00 |
Attenuation by frequency
| | | | | | | | | |
| --- | --- | --- | --- | --- | --- | --- | --- | --- |
| Hz | 63 | 125 | 250 | 500 | 1000 | 2000 | 4000 | 8000 |
| dB | 22.30 | 23.30 | 24.60 | 26.90 | 27.40 | 34.10 | 41.60 | 40.40 |
| SD | 5.40 | 5.30 | 3.60 | 5.40 | 4.80 | 3.10 | 3.50 | 6.40 |
| dB less SD | 16.90 | 18.00 | 21.00 | 21.50 | 22.60 | 31.00 | 38.10 | 34.00 |
Source: 3M. E-A-R Classic II Gehörschutzstöpsel - Technisches Datenblatt. Retrieved from http://multimedia.3m.com/mws/media/895927O/3m-e-a-r-classic-ii-gehorschutzstopsel.pdf on 2016-12-18