ER20XS, Etymotic Research
Review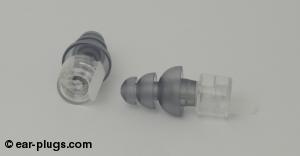 The ER20XS are produced by Etymotic Research (ER). They are positioned as reusable earplugs with high sound quality. The ER20XS are a successor product to the ETY 20 earplugs. They are similar with the exception that the stem length of the ER20XS has been reduced significantly. This makes them less visible that the ETY 20. The ER20XS provide medium sound protection.


Music
The ER20XS is a good choice for listening to music. The sound quality is good and much better compared to foam earplugs. The ER20XS provides medium sound reduction. The sound quality is so good, that one can still easily converse with other people at normal loudness. However, if one is in an environment with really loud music, then the ER20XS might not offer enough protection and stronger earplugs should be considered. Foam earplugs offer more protection, but much less sound quality. If money is not an issue, then the ER25 earplugs are an alternative with more sound reduction and even better sound quality than the ER20XS, but they are custom made and much more expensive. Also have a look at our article on listening to music.
Motorcycle
The ER20XS is not the most comfortable earplug for being worn under a helmet, but it is possible. They provide medium sound reduction with a good sound quality and depending on circumstances this might be sufficient.
Shooting
The ER20XS is too weak for shooting.
Swimming
The earplug is not usable for swimming.
Travel
They can be a good choice, because they only provide medium sound reduction at a good sound quality. This way, one is still able to converse with people.
Invisibility
The short stem of the ER20XS makes them less visible than many other reusable earplugs on the market. The ER20XS has a shorter stem than its predecessor, the ETY 20 earplugs. The ER20XS earplugs have a small piece of plastic attached to them for helping in removing them from the ears. This small piece is not necessary and can be removed, which makes them a slightly bit less visible and slightly more comfortable to wear.
Size
The ER20XS is made up of two parts. The sound reduction module and a second piece for fitting them into the ear. This second piece is available in 3 variations: small, large, and foam.
Availability
Etymotic Research (ER) is a US company. The ER20XS are the most easily available the USA.
Lifespan
The earplugs are reusable and should last a few months.
Price
They cost around 20 USD for a pair.
Sleeping
The ER20XS is a reusable earplug that contains hard plastic. It is not a good choice for sleeping, because foam or wax earplugs are cheaper and more comfortable for sleeping.
Comparisons of this earplug with other earplugs are available here.
Facts
| | |
| --- | --- |
| Name: | ER20XS |
| Brand: | Etymotic Research |
Attenuation
No data available