Laser Lite, Howard Leight
Review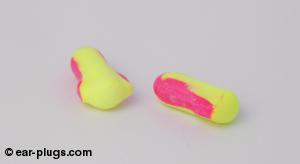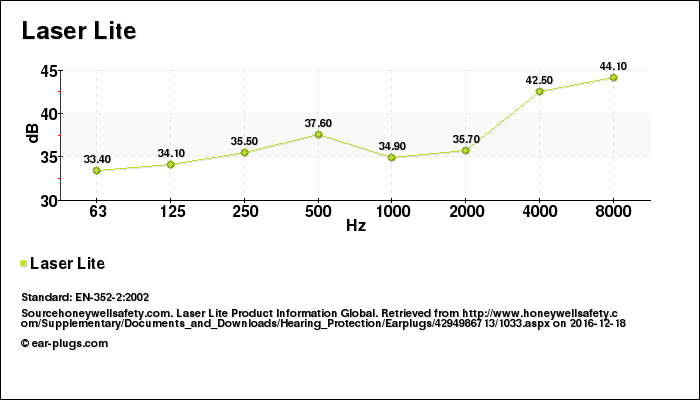 Sleeping
The earplugs are comfortable and provide high sound protection. An alternative are the Hearos Ultimate Softness Series, which are about evenly comfortable, but provide a slightly stronger sound protection.
Music
For foam earplugs, the Howard Leight Laser Lite are a very good choice for listening to music. They have a relatively flat attenuation curve, which results in a good sound quality (that is for a foam earplug). They are a good choice for loud concerts. The Laser Lite are strong earplugs (33.40dB at 63Hz up to 44.10dB at 8000Hz). If they are felt to be too strong, then alternatives such as the Alpine PartyPlug could be considered. An even better choice for listening to music are the custom molded ER15 or ER25 earplugs, but they are much more expensive. Also have a look at our article on listening to music.
Shooting
The Laser Lite are strong earplugs with an SNR of 35dB and high attenuation at all frequencies (63Hz to 8000Hz). In addition to earplugs, earmuffs should be worn.
Swimming
The earplugs are not a good choice for swimming, because they are made of foam.
Industriy
The earplugs provide good protection at all frequencies (33.40dB at 63Hz up to 44.10dB at 8000Hz).
Visibility
Their coloring helps to make them visible.
Invisibility
They Laser Lite earplugs are especially colored to be visible. If invisibility is desired, then they could to be painted (black).
Comfort
The earplugs feel soft on the skin and provide only low pressure against the ear canal.
Material
Polyurethane foam
Size
They are available in only one size.
Color
The Laser Lite are available in high-visibility coloring with magenta and yellow.
Comparisons of this earplug with other earplugs are available here.
Facts
| | |
| --- | --- |
| Name: | Laser Lite |
| Brand: | Howard Leight |
Attenuation (Europen Standard)
Attenuation according to measurement standard EN-352-2:2002
More decibel (dB) means more sound protection. More hertz (Hz) means a higher pitch sound.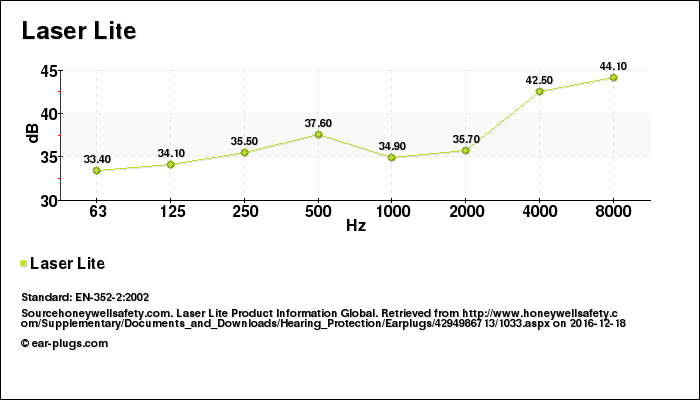 Overall rating
| | |
| --- | --- |
| Standard | EN-352-2:2002 |
| SNR | 35.00 |
| L | 31.00 |
| M | 32.00 |
| H | 34.00 |
Attenuation by frequency
| | | | | | | | | |
| --- | --- | --- | --- | --- | --- | --- | --- | --- |
| Hz | 63 | 125 | 250 | 500 | 1000 | 2000 | 4000 | 8000 |
| dB | 33.40 | 34.10 | 35.50 | 37.60 | 34.90 | 35.70 | 42.50 | 44.10 |
| SD | 4.60 | 4.70 | 4.60 | 4.10 | 5.00 | 2.80 | 2.90 | 4.20 |
| dB less SD | 28.80 | 29.40 | 30.90 | 33.50 | 29.90 | 32.90 | 39.60 | 39.90 |
Source: honeywellsafety.com. Laser Lite Product Information Global. Retrieved from http://www.honeywellsafety.com/Supplementary/Documents_and_Downloads/Hearing_Protection/Earplugs/4294986713/1033.aspx on 2016-12-18