ACS Pacato, ACS
Review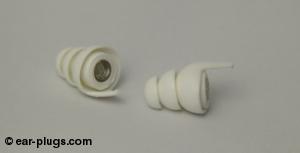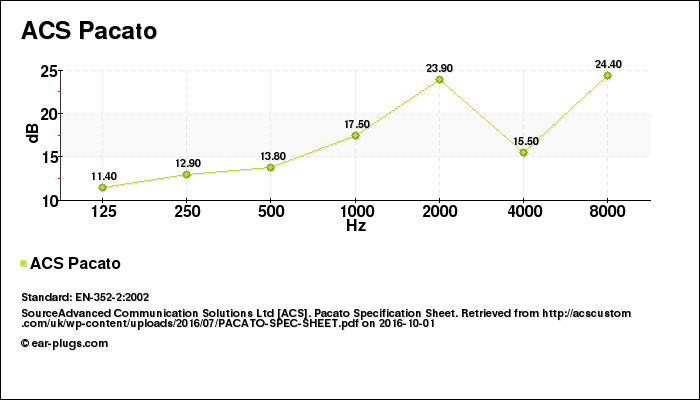 The ACS Pacato are reusable earplugs. They are barely visible when worn. They provide low to medium sound protection.


Music
The ACS Pacato is a choice for listening to music of medium loudness. In addition, the earplugs are almost invisible when worn. That makes them a good choice for bars, pubs, not very loud concerts, and similar venues. The Pacato is a rather weak earplug and does not provide sufficient protection for really loud concerts (only 11.4dB at 125Hz up to only 24.4dB at 8000Hz). For loud concerts, stronger earplugs should be used such as the Bilsom 303S foam earplugs. If sound quality is important, then by far the best choice are the custom molded ER15 or ER25 earplugs, but they are much more expensive. Also have a look at our article on listening to music.
Sleeping
The ACS Pacato is not a good choice for sleeping. Foam earplugs are more comfortable and are stronger.
Shooting
The ACS Pacato only provides weak to medium sound reduction. This is insufficient for protecting the ears when shooting.
Swimming
They are not usable for swimming.
Travel
Foam earplugs are cheaper than the ACS Pacato and provide more sound reduction.
Invisibility
The ACS Pacato are almost invisible when worn. They do not have a stem that sticks out of the ear, like for example, the Alpine Partyplugs.
Size
The Pacato is available in one size.
Color
They are available in white.
Comparisons of this earplug with other earplugs are available here.
Attenuation (Europen Standard)
Attenuation according to measurement standard EN-352-2:2002
More decibel (dB) means more sound protection. More hertz (Hz) means a higher pitch sound.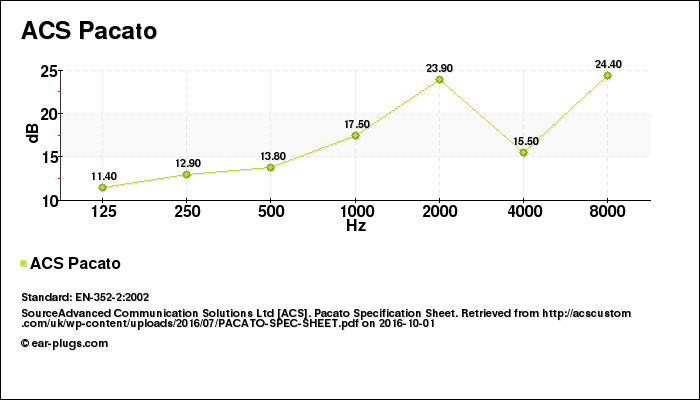 Overall rating
| | |
| --- | --- |
| Standard | EN-352-2:2002 |
| SNR | 19.00 |
| L | 14.00 |
| M | 17.00 |
| H | 19.00 |
Attenuation by frequency
| | | | | | | | |
| --- | --- | --- | --- | --- | --- | --- | --- |
| Hz | 125 | 250 | 500 | 1000 | 2000 | 4000 | 8000 |
| dB | 11.40 | 12.90 | 13.80 | 17.50 | 23.90 | 15.50 | 24.40 |
Source: Advanced Communication Solutions Ltd [ACS]. Pacato Specification Sheet. Retrieved from http://acscustom.com/uk/wp-content/uploads/2016/07/PACATO-SPEC-SHEET.pdf on 2016-10-01