Mack's Ultra Soft, Mack's
Review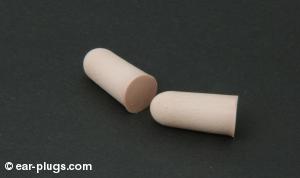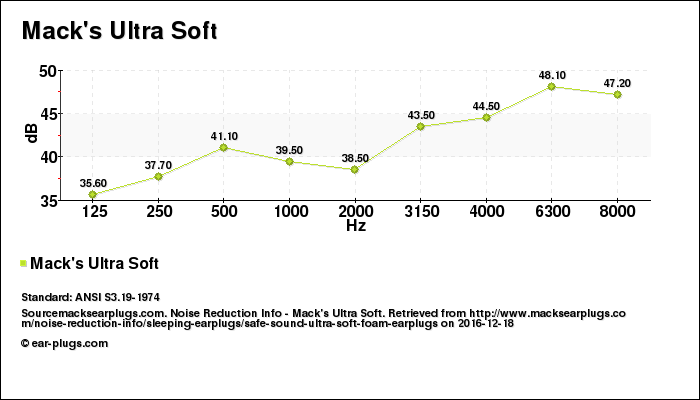 Mack's Ultra Soft earplugs are foam earplugs.


Comfort
The Mack's Ultra Soft earplugs feel soft on the skin and comfortable in the ear.
Sleeping
The earplugs are a good choice for sleeping, because they are comfortable and provide high protection. If the pressure against the ear canal feels uncomfortable then alternatives should be considered. One alternative are silicone earplugs such as the Mack's Pillow Soft that feel more comfortable, because they do not make any pressure. Another alternative are custom made sleeping earplugs that are fitted to the individual ear and provide no pressure at all.
Music
The Mack's Ultra Soft earplugs are strong earplugs and should provide sufficient protection for any loud concert. But there are earplugs with similar strong sound protection and better sound quality available such as the Bilsom 303S, which has a more flat and better attenuation profile. Because Mack's Ultra Soft earplugs are strong earplugs, they might be felt to be too strong for listening to music that is not very loud. In this case alternatives such as the ER20XS could be considered. If sound quality is really important, then the best choice are the custom made ER15 or ER25 earplugs, but they are much more expensive. Have a look at our article on listening to music.
Shooting
The Mack's Ultra Soft earplugs are strong earplugs at all frequencies. This is good. But the Hearos Ultimate Softness or Xtreme Protection provide slightly more protection. In addition, earmuffs might be worn.
Swimming
The earplugs are not usable for swimming, because they are made from foam. Use the Mack's Pillow Soft instead.
Travel
These earplugs are comfortable to wear and provide high noise protection. For more comfort, custom fitted earplugs could be considered.
Invisibility
The earplugs are available in skin toned color which helps to hide them.
Material
Polyurethane foam
Availability
The manufacturer, McKeon Products, is a company located in the USA. The earplugs are most easily available in the USA.
Comparisons of this earplug with other earplugs are available here.
Facts
| | |
| --- | --- |
| Name: | Mack's Ultra Soft |
| Brand: | Mack's |
Attenuation (US Standard)
Attenuation according to measurement standard ANSI S3.19-1974
More decibel (dB) means more sound protection. More hertz (Hz) means a higher pitch sound.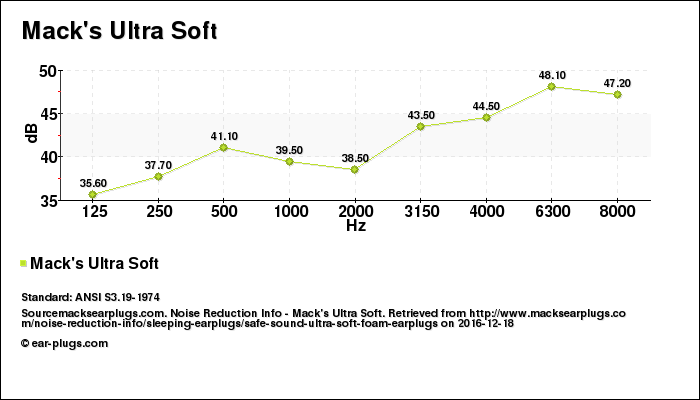 Overall rating
| | |
| --- | --- |
| Standard | ANSI S3.19-1974 |
| NRR | 32.00 |
Attenuation by frequency
| | | | | | | | | | |
| --- | --- | --- | --- | --- | --- | --- | --- | --- | --- |
| Hz | 125 | 250 | 500 | 1000 | 2000 | 3150 | 4000 | 6300 | 8000 |
| dB | 35.60 | 37.70 | 41.10 | 39.50 | 38.50 | 43.50 | 44.50 | 48.10 | 47.20 |
| SD | 4.90 | 4.50 | 4.40 | 3.70 | 2.70 | 2.80 | 4.00 | 4.30 | 3.70 |
| dB less SD | 30.70 | 33.20 | 36.70 | 35.80 | 35.80 | 40.70 | 40.50 | 43.80 | 43.50 |
Source: macksearplugs.com. Noise Reduction Info - Mack's Ultra Soft. Retrieved from http://www.macksearplugs.com/noise-reduction-info/sleeping-earplugs/safe-sound-ultra-soft-foam-earplugs on 2016-12-18